This article originally appeared in the Winter 2002 issue of the AMCA club magazine "The Antique Motorcycle".

Identification and Dating of Stewart Warner Speedometers
From: Perry Ruiter

Recently I had the good fortune to acquire a small selection of Stewart Warner (SW) factory speedometer literature. Included were 1952, 1960 and 1971 speedometer parts lists along with similar vintage service instructions.

Naturally my primary interest was in the speedometer models SW supplied to Harley and Indian. Fortunately one of the sheets of information listed which models SW supplied for use on 30s, 40s and early 50s Harley and Indians (copies of these sheets are reproduced at the end of this article). To aid in instrument identification Stewart Warner ink stamped information on the back of their speedo cans. The service literature explained how to interpret this information. As an example, a speedometer might be stamped 509EP P12. This would be interpreted as the speedometer model (e.g.; 509), followed by the model variant (e.g.; EP), followed by a production date code (e.g.; P12 which equates to December 1946). The following tables allow you to decode the production date (note that letters I and O were not used, presumably to avoid confusion with 1 and 0):
| | |
| --- | --- |
| | |
It's heartening to see that some people doing speedometer work are also putting this information back onto the freshly restored speedometer cans.

One of my initial tasks was to attempt to corroborate the speedometer information provided in Palmer's "How to Restore your Harley-Davidson" with the information in the SW factory data. By doing this a couple interesting facts emerged. Regardless whether a speedometer had a tripmeter or not, Palmer calls them all model 509 speedometers. However, the SW factory did make a distinction. Speedometers with a tripmeter were model 509. Speedometers without a tripmeter were model 529. Matching the face numbers given in Palmer's book with the model numbers in the 1952 parts list yields the following table for 1936-1947 speedometers (1948 heralded the introduction of the bi-level face):
1936
90368(mph) 509-BR (face number not listed in Palmer's)
90413(mph) 529-R (no tripmeter)
90476(kmh) 509-BR (face number not listed in Palmer's)
90486(kmh) 529-R (no tripmeter, face number not listed in Palmer's)
1937
94103(mph) 509-DA
94104(kmh) 509-DA 509-DJ 509-DM (face number not listed in Palmer's)
94105(mph) 529-AM (no tripmeter, face number not listed in Palmer's)
94106(kmh) 529-AM (no tripmeter, face number not listed in Palmer's)
1938-40
96085(mph) 509-DG 509-DJ 509-DM
1941-46
104473(kmh) 509-DT 509-DW (face number not listed in Palmer's)
104474(mph) 509-DT 509-DW
105366(mph) 529-BX (no tripmeter)
105367(kmh) 529-BX (no tripmeter, face number not listed in Palmer's)
401425(mph) 509-EB
1947
411905(mph) 509-EP 509-ES
412196(kmh) 509-EP 509-ES (face number not listed in Palmer's)
In addition to the above, Palmer lists face numbers 401036 and 401429 which are not listed in my Stewart Warner parts lists.

The interesting point here is - Palmer indicates there was a 1938-40 style kilometer face, but the SW parts lists show the same face (94104) used on the 509-DJ and 509-DM kilometer speedos as was used on the 1937 speedos (509-DA), whereas the mile 509-DJ and 509-DM speedos do get the new style face. I have been told by a reputable source that there is a 38 style kilo face, but he doesn't have an example of it nor a face number. If any readers do, we would be most interested in the details. While we're on the subject of face numbers, I've surveyed a fair number of reproduction faces and unfortunately the producers haven't always been true to the original factory face numbers. I have seen kmh faces with mph face numbers on them, incomplete numbers and numbers that have been misinterpreted from the original (e.g.; an 8 where a 3 should have been). It didn't seem to matter whether it was a low end silk screened aluminium face or a high end lithographed on silver plated brass face (just the way SW used to make them), some were wrong. I should hasten to add that many were also correct. Come on producers! It's a small detail I know, but it's really no more effort to do it right is it?

Recall, the service literature showed us how to date a speedo. Knowing the production date of a speedometer can raise some interesting questions in and of itself. For example conventional wisdom (and Palmer) holds that 1957 Panheads were the only year speedometers were used with a gold lower face and a red tenth number wheel in the tripmeter. Yet, I have seen three gold face, red tenth number wheel speedometers that appeared to have never been opened up with date codes of Y2, Y3 and Y7 - February, March and July of 1955. I have a hard time believing SW were producing these speedometers 1 to 1 1/2 years before Harley used them. This begs the question - did some 1956 (or even late 1955) Panheads have a gold face and red tenth trip number? If any readers have an all original bike so equipped I'd be interested in the details.

The service literature also highlights which speedometers were police special. By the sixties the speedometer would say police special on the face, but the earlier models can only be identified by the number stamped on their body (well, not quite true, the 1936 and 1937 police speedos used a different can to accommodate the hand lock assembly). The police special speedo numbers are 509-DM, 509-DW, 509-ES, 509-EV, 509-FA, 509-FF, 509-FG and 509-FH. In general, the internal construction is the same between police and civilian speedos. The police speedos are just calibrated to a more rigorous standard. As well, police speedometers usually had a P ink stamped prominently on the can. Final comment on police speedometers - Palmer indicates some police speedometers will be stamped with 509-FGD, as we now know, these were really 509-FG speedometers with D being the production year code.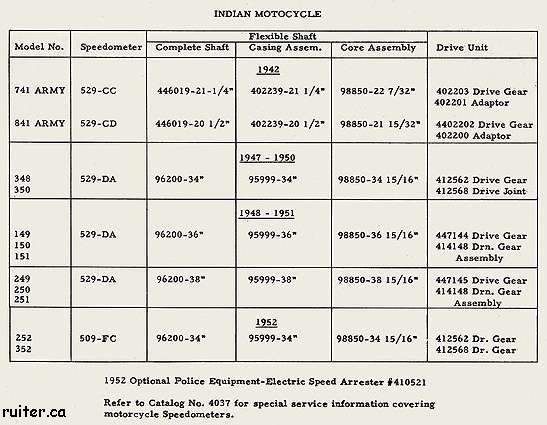 After this article was published a typo was discovered in the above Indian application chart. Speedo 529-CD is listed as being used on the 841. In fact, the 841 used the same speedo as the 741, 529-CC. This was confirmed by the 841 parts book. It lists the speedometer with the same Indian part number (76122) as the 741 used. Also, being a military parts book, it lists the manufacturer's part number for parts made by outside suppliers. It also lists 529-CC.